Today I completed a baby sling for my sister-in-law. Yeah, It's her Christmas present, from '07. This is the third one I've made, and they are really surprisingly easy.
Start by measuring diagonally from the edge of one shoulder to the top of the opposite hip, add 4 inches to that number, then double that number and that gives you the length of fabric you will need. (A "small" is 55 inches.) The fabric only needs to be 22 inches wide, so if your fabric is 45 inches wide you can just cut it in half down the middle.
Fold the fabric in half width wise, and then lengthwise. Cut the fabric from the center fold curving in a slight half"smile" up to the raw edge. The cut should curve up three inches by the time it reaches the edge. (In the picture my raw edges are to the left and top. My folded edges are to the right and bottom.)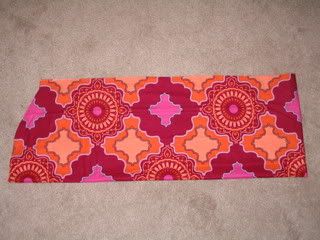 What this does is create the pouch that the baby will lay in. Since there are three inches of difference on each end of the fabric, when sewn together the center of the sling is actually 6 inches longer than the edges, creating the pocket that holds your baby securely.
Open the fabric up once so you see the full "smile," and sew the wrong sides of the "smile" together 1/4 inch from the edge. This is step 1 of your french seam, which is a very strong reinforced seam that you won't have to worry about splitting.
Fold the sling inside out, this puts the edges from your last seam on the inside. Iron the seam flat. Sew a seam 1/2 inch from the edge of the "smile." What this does is hide the raw edges inside your new seam.
Now you can sew this seam to lie down flat to one side of the fabric.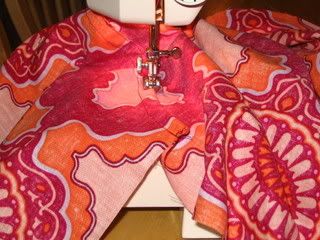 Now finish off the edges and your sling is complete. This picture shows me wearing the completed sling, but keep in mind, there is no baby inside, just my 8-months pregnant belly! (Post-note This one was too long once my belly was gone. The 55 inch measurement is for one I made for my sister who is the same size as me and about 5'2". But everyone is different. Just measure from the shoulder--the farthest point, to the top edge of the opposite hip. Add 4 inches, (3 for the "pocket" and 1 for the french seam allowance) then double. It should be nice and snug--not letting the baby swing down by your knees!)
Have fun!
The internet has a lot of resources for using slings appropriately. Look up some info and never use a sling until you are sure you can do so safely.