This is a Picture of my Great Grandmother Blanche Waldrade Bilby, from 1908. She's with her husband (Alma Peterson) and it looks like wedding day to me! These are my Mother's Father's parents, and I chose to share this picture because of how awesome their clothes are.
They were both born in the United States but both their parents were immigrants from Denmark. They were both born in different counties in Arizona, and were married in the
Salt Lake City, UT Temple
. They had five children, three sons (including my grandfather) and two daughters.
* * * * * *
Share photos of your ancestors on
Family Search
.
I'm sharing my photo here today for this blog hop: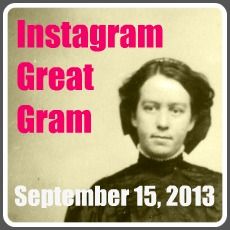 As a part of this internet celebration: